Hi there people,
Before I start this post,
This is the inner layout of the store! Look how pretty it is.
Just feel like updating so that this page doesn't feel that dull and just wanna have a post with pictures so that people will actually read it HAHA. (attention seeking)
On the 5th of April, I joined the crazy people and was one of the first hundred people among thousands to be in line just to have a taste of this most anticipated retail outlet this year in Australia - H&M. To be in the first hundredth in line, I got in the line at 5am in the morning as I was told there will be a pre-party starting at 6am. Oh well. It was a bittersweet experience. Managed to talked to a few strangers during the wait and got to know the first in line, actually started queuing the day before, which is the 4th April, around 10pm. (Look at how crazy and desperate people can be).
A short brief (boring) introduction if you didn't know about H&M (skip it if you want to):
The outer layout of GPO's H&M. That's the Australia Country manager along with the store manager and H&M's CEO waiting to cut the ribbon. There's a DJ playing some music during the countdown too.
H&M (Hennes & Mauritz AB), one of the world's famous budget friendly retail store from Sweden that offers affordable clothing with great fashion choices, is trending worldwide including from where I came from (Malaysia). It is located at Melbourne's GPO (Bourke Street/Elizabeth Street) which is beside MYER and David Jones Store.
The store consists of three-storey with different categories each storey. Not just women's fashion but kids and men's along with sportswear and lingerie.
On the "Red Carpet". Counting down.
Being typical girls?
Free goodie bag courtesy of being there early? But apparently everyone got it -_- .
The H&M catalog.
SHOPAHOLICS!
A picture with the logo and my haul.
Didn't manage to show the pictures of all the floors but it is worth to take a look if you're in Melbourne. The clothes are not ridiculously pricey and it's actually pretty affordable. With Miranda Kerr as the ambassador and her spring look with H&M,
you can get it for less than 40 dollars for the whole outfit:
Top and shorts for just 19.90 AUD each!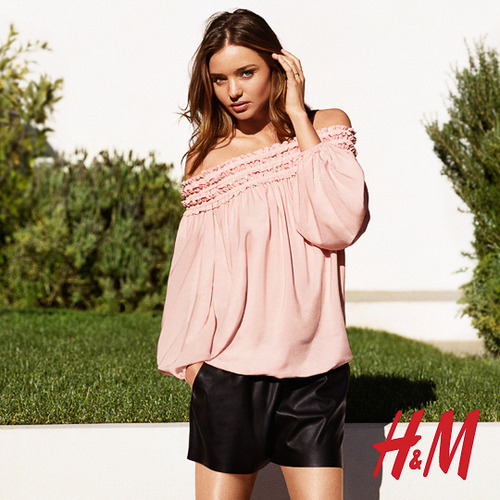 ps: how can you not idolize her :3 ?
Cheers.